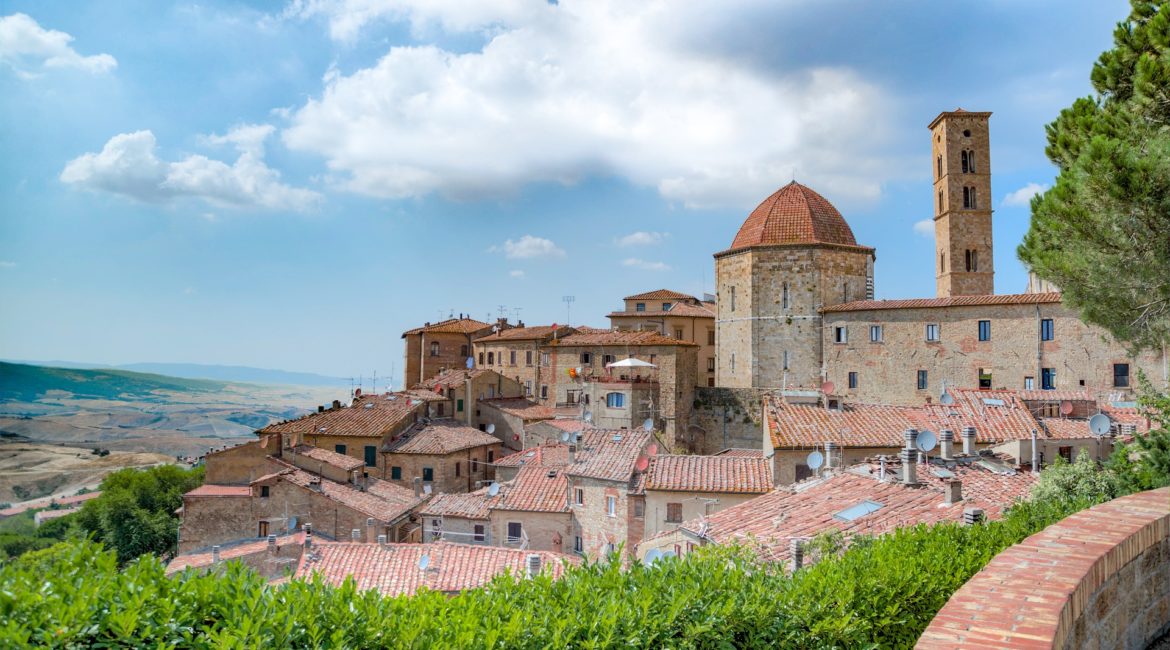 Volterra
Volterra (Italian pronunciation: [volˈtɛrra]) is a walled mountaintop town in the Tuscany region of Italy. Its history dates from before the 8th century BC and it has substantial structures from the Etruscan, Roman, and Medieval periods.
Main sights
Volterra Cathedral. It was enlarged in the 13th century after an earthquake. It houses a ciborium and some angels by Mino da Fiesole, a notable wood Deposition (1228), a masterwork of Romanesque sculpture and the Sacrament Chapel, with paintings by Santi di Tito, Giovanni Balducci and Agostino Veracini. In the center of the vault are fragments of an Eternal Father by Niccolò Circignani. Also noteworthy is the Addolorata Chapel, with a terracotta group attributed to Andrea della Robbia and a fresco of Riding Magi by Benozzo Gozzoli. In the nearby chapel, dedicated to the Most Holy Name of Jesus, is a table with Christ's monogram, allegedly painted by Bernardino of Siena. The rectangular bell tower is from 1493.
Volterra Baptistery of San Giovanni, built in the second half of the 13th century.
Fortezza Medicea (Medicean Fortress),[36] build in the 1470s,[37] now a prison[38] housing the noted restaurant, Fortezza Medicea restaurant.[39][40][41]
Guarnacci Etruscan Museum,[42][43] with thousands of funeral urns dating back to the Hellenistic and Archaic periods.[44][45] Main attractions are the bronze statuette "Ombra della sera" (lit. "Shadow of the Night"),[46] and the sculpted effigy, "Urna degli Sposi" (lit. "Urn of the Spouses") of an Etruscan couple in terra cotta.[47][48][49][50]
The Etruscan Walls of Volterra, including the well-preserved Walls of Volterra (3rd-2nd centuries BC),[51][52] and Porta Diana gates.[53][54]
The Medici Villa di Spedaletto, outside the city, in direction of Lajatico[55]
There are excavations of Etruscan tombs in the Valle Bona area.