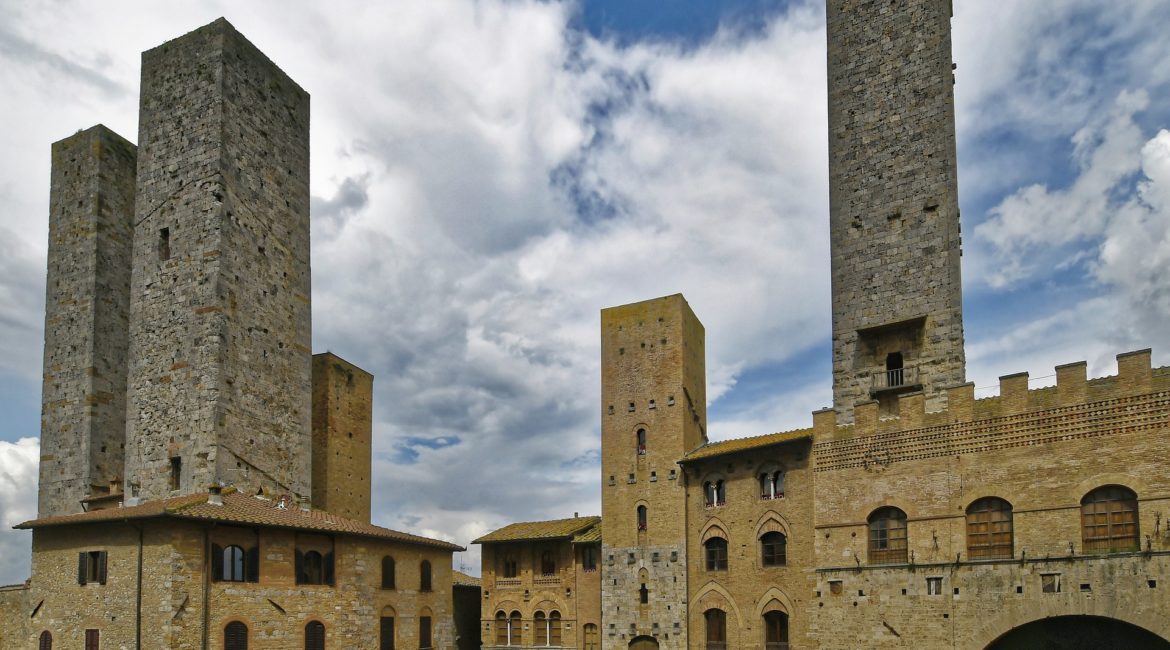 San Gimignano
San Gimignano (Italian pronunciation: [san dʒimiɲˈɲaːno]) is a small walled medieval hill town in the province of Siena, Tuscany, north-central Italy. Known as the Town of Fine Towers, San Gimignano is famous for its medieval architecture, unique in the preservation of about a dozen of its tower houses,[3] which, with its hilltop setting and encircling walls, form "an unforgettable skyline".[4] Within the walls, the well-preserved buildings include notable examples of both Romanesque and Gothic architecture, with outstanding examples of secular buildings as well as churches. The Palazzo Comunale, the Collegiate Church and Church of Sant' Agostino contain frescos, including cycles dating from the 14th and 15th centuries.[4] The "Historic Centre of San Gimignano" is a UNESCO World Heritage Site.[4] The town also is known for saffron, the Golden Ham, and its white wine, Vernaccia di San Gimignano, produced from the ancient variety of Vernaccia grape which is grown on the sandstone hillsides of the area
The town of San Gimignano has many examples of Romanesque and Gothic architecture. As well as churches and medieval fortifications, there are examples of Romanesque secular and domestic architecture which may be distinguished from each other by their round and pointed arches, respectively. A particular feature which is typical of the region of Siena is that the arches of openings are depressed, with doorways often having a second low arch set beneath a semi-circular or pointed arch. Both Romanesque and Gothic windows sometimes have a bifurcate form, with two openings divided by a stone mullion under a single arch.[12][13]
Squares
This Piazza, entered from Via San Giovanni, is the main square of the town. It is triangular in shape and is surrounded by medieval houses of different dates, among them some fine examples of Romanesque and Gothic palazzos. At the centre of the piazza stands a well which was the main source of water for the town's residents. The structure dates from 1346.[8] Although much of it has been renewed in the late 20th century, parts of the paving date from the 13th century.[8]
Piazza Duomo
This piazza is to the north of Piazza della Cisterna and is connected by a passage adjacent to an open loggia. To the west, at the top of the square, stands the Collegiate Church, reached by a broad flight of steps. The name of the square would seem to imply that this church was at one time a cathedral, but although it was perhaps planned, this was not the case. Other important buildings on the square include the Palazzo Comunale and the Palazzo Podesta, the house of the mayor. The Palazzo Podesta is distinguished by its huge arched loggia.